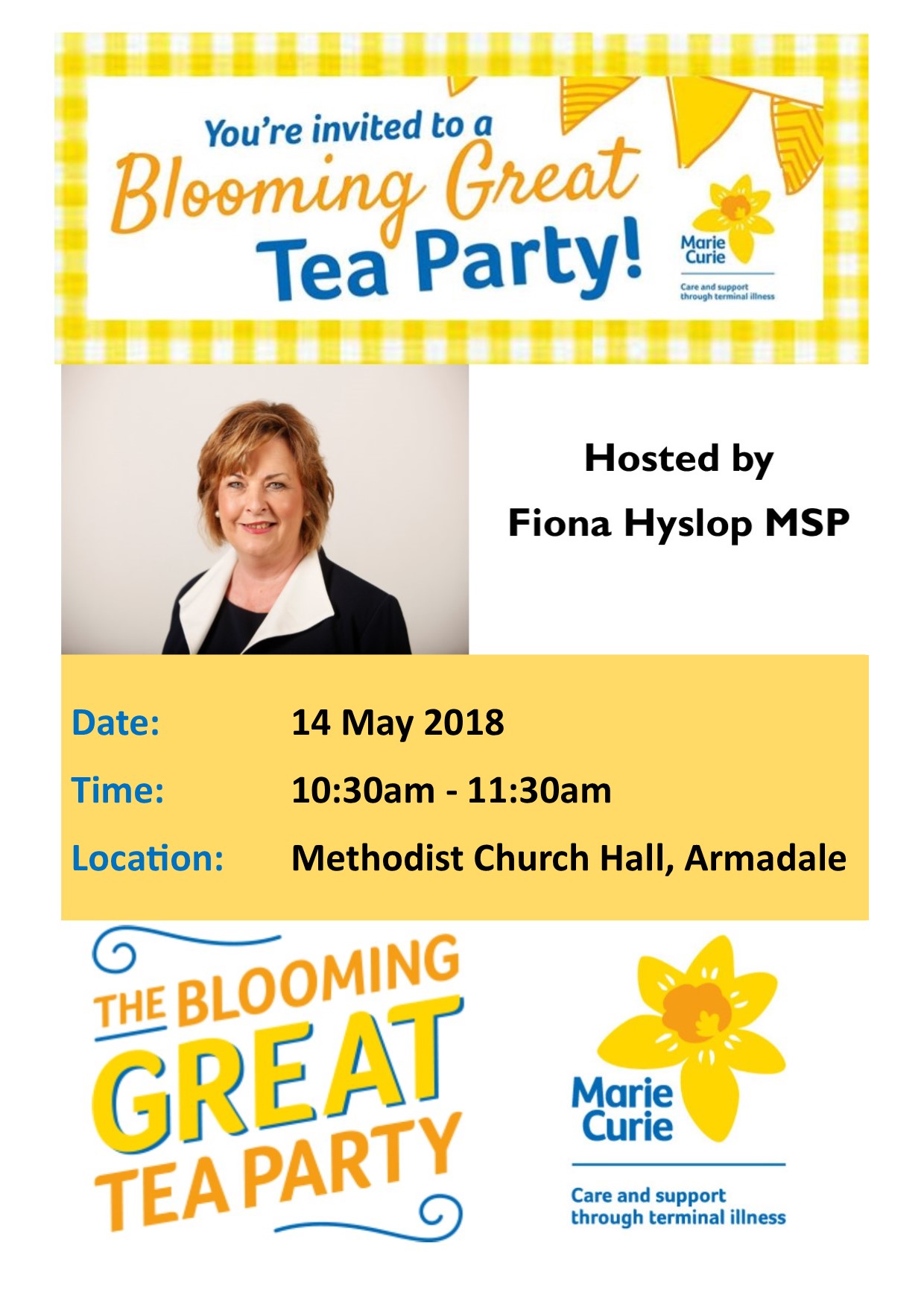 Hyslop Holds Blooming Great Tea Party in Armadale
Local Constituency MSP will be holding a Blooming Great Tea Party to raise funds for Marie Curie at the Armadale Methodist Church Hall on Monday, 14th May at 10.30am.
Fiona said;
"Following the success of the coffee morning I hosted in Whitburn for Marie Curie last year, I am delighted to hold a second Blooming Great Tea Party in Armadale in my constituency to raise awareness and funds for Marie Curie.
"We have all been touched by cancer in some way and so it is important to support this fantastic charity that supports those that are terminally ill and their families.
"It is also an opportunity to meet constituents and people from the community I so would encourage anyone free from 10.30 – 11.30 on Monday, 14th May to come along and help raise funds for Marie Curie by having a tea with your MSP."

ENDS
Notes to editor:
Fiona's Blooming Great Tea Party details:
Where: Armadale Methodist Church Hall, East Main Street, Armadale
When: Monday, 14th May, 10.30 – 11.30am
What: Tea with your MSP to raise money for Marie Curie
To hold your own Blooming Great Tea Party visit:
https://www.mariecurie.org.uk/teaparty
The coffee morning/Tea party is part of The Marie Curie 'The Blooming Great Tea Party'. This is an effort by the charity to try and get as many people organising coffee mornings across the country as possible to donate to the charity.
Marie Curie is a charity that focuses on providing care for those with Terminal cancer. It provides care for around 40,000 people and their families, both practical and emotional to ensure quality of life remains as high as possible. The charity was founded in 1948 and now has more than 2,700 nurses and doctors helping with it