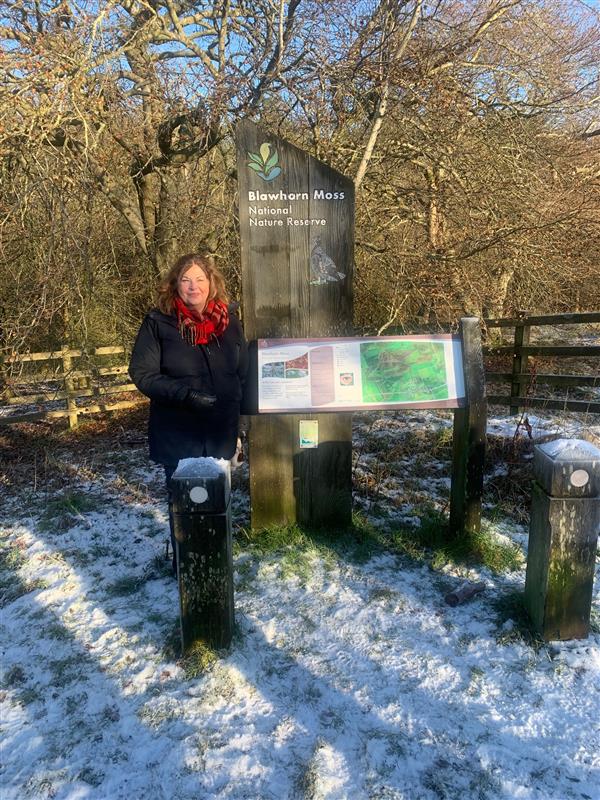 Local MSP for the Linlithgow Constituency, Fiona Hyslop, visits the Blawhorn Moss National Nature Reserve near Blackridge.
Blawhorn Moss is one of the best examples of a lowland raised bog in Scotland. The Reserve is in the hills behind Blackridge and is a rare example of raised and blanket bogs, containing over 8,000 years of history within the layers of the Bog.
Commenting Fiona said:
'I was pleased to accept an invitation to visit Blawhorn Moss National Nature Reserve from Nature Scot who manage what is the only National Nature Reserve in the Central Belt. As the Nature Champion for Scotland's extraordinary blanket bogs I take a keen interest in our peatlands which cover 20% of Scotland.
'This site near Blackridge in my Constituency is extremely important as active peatland bogs, like this one, can act like a carbon sink, helping us to reach our climate change goals.
'Improving biodiversity in Scotland is essential in tackling climate change and ensuring we restore peatlands across Scotland is key to this. I raised peatland restoration in the Scottish Parliament last week and was pleased to hear Minister Lorna Slater acknowledge the need to have climate and nature at the centre of Scotland's policy development and delivery as we work towards our climate change targets.
'While the site provides excellent climate and nature benefits, the Reserve also provides the local community with a great space for walks. A boardwalk has been installed around the Moss to allow walking routes on the site while protecting the habitat. Nature Scot also work with the local community to provide access to the Moss and educate local school children on the benefits of this site and the need to ensure it is protected.
'I was also pleased to hear that Nature Scot are working with neighbouring Drumduff Wind Farm to extend the environmentally friendly boardwalks at Blawhorn Moss. Nature Scot are also resurfacing the access road to the car park at the site, both of which will allow easier access to Nature Reserve for both locals and visitors.
'I would encourage my Constituents to visit this incredible site and learn more about this excellent amazing site which is on our doorstep in West Lothian.'
ENDS