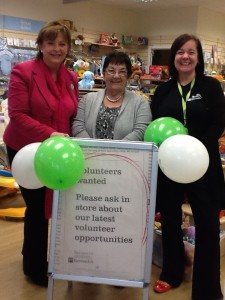 MSP Supports West Lothian Volunteers on 'Make A Difference Day'
Local MSP Fiona Hyslop has visited West Lothian Voluntary Sector Gateway and the Barnardos store in Linlithgow to highlight National "Make a Difference Day" which encourages more people to volunteer for with their local charities.
Make a Difference Day is on Saturday 27th October 2013, but thousands of "new volunteers" will be giving up their time throughout the next two weeks in support of local charities.
Ms Hyslop said;
"I always enjoy the opportunity to highlight volunteering and the vital work that our volunteers do.The voluntary sector makes a huge contribution to West Lothian's social economy. Without their dedication and hard work many of our local charities would not be able to cope.
"I was very pleased to meet some of the local volunteers from Barnardos in Linlithgow and at the Voluntary Sector Gateway in Bathgate on Friday (25th October) and I hope that this will encourage more people across West Lothian to show their support for a local charity that is important to them."
Notes:
http://www.csv.org.uk/press/csv-make-difference-day-hits-one-million-volunteers
To find out about volunteering opportunities with Barnardo's, please visit www.barnardos.org.uk/volunteering.