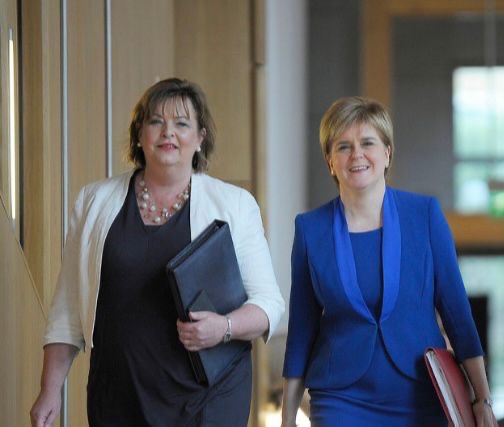 Following the First Minister's announcement, on 15th February, Fiona said:
"I have known and worked with Nicola for many years having first met her when she was a politically talented 16 year old and have been proud to watch her lead Scotland as First Minister through the toughest of times. She had led our nation further down the path to Independence and her legacy is huge and one we will continue to build on, not least by securing Independence for Scotland.
"Nicola Sturgeon has served the people of Scotland with distinction. As the first female First Minister, she has also been the longest incumbent in this office, both of which we must recognise as achievements in themselves. Her empathy, warmth, humility and sheer appetite for hard work and resilience has been privilege to see at close quarters. I worked with her as a Cabinet colleague for 14 years and she is the most impressive of Government Ministers.
"Over the years, Nicola has worked tirelessly for the people and communities of Scotland. As our dedicated Party leader she has ensured that the SNP has remained the most trusted party in Scotland.
" Being on the front line of politics takes its toll, not only on the individual but also for family and friends. No one has borne that more than Nicola Sturgeon, not least as she led our nation through the uncharted waters of a global pandemic.
"As the First Minister said in her statement, her resignation will give us all an opportunity to reflect on the current nature and culture of politics in Scotland. All MSPs and MPs should reflect on these wise words and try to de-polarise public debate to focus more on the issues and reset the tone of politics.
"I welcome the news that she is not intending to leave politics and look forward to working with her working with her in the future.
"Nicola has been an outstanding leader of the SNP and as Scotland's First Minister she has led the people of Scotland through some of our darkest times. I wish her all the best as she begins this new chapter."
ENDS