Fiona Supports Scottish Sports Alliance Campaign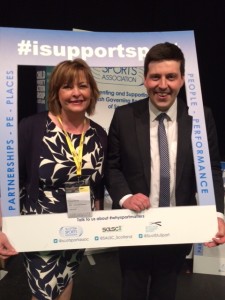 Photo of Fiona Hyslop MSP and Jamie Hepburn MSP, Minister for Sport and Mental Health
Local Constituency MSP, Fiona Hyslop met with Scottish Sports Alliance to discuss why sport matters with the Government Minister for Sport and Mental Health and to add their #ISupportSport Selfie to their campaign.
Fiona commented,
"I am very pleased to support the Scottish Sports Alliance and the work they do to promote health, mental health, education and social issues. The energy you get from sport and fitness is fundamental to our physical and mental wellbeing and something that should be embraced and promoted across our communities."
Kim Atkinson, CEO of the Scottish Sports Association, said
"We need to embrace the many benefits of participating in sport – from sheer enjoyment to positive contributions to health, mental health, education and economic productivity as highlighted by #whysportmatters. Our members provide opportunities for people of all ages to get active and we would encourage everyone to find their sport(s) and to join us in saying #isupportsport."
ENDS
Notes to editor:
The Scottish Sports Alliance is the collective voice of the Scottish Sports Association, Scottish Student Sport and the Scottish Association of Local Sports Councils. Collectively the three organisations represent 52 Governing Bodies of Sport; 40 Local Sports Councils; 30+ Scottish Universities and Colleges encompassing 195,000 volunteers, 13,000 sports clubs and 900,000 men and woman who regularly participate in sport in Scotland.