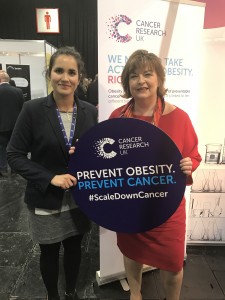 Fiona Backs Scale Down Cancer Campaign
Local Linlithgow MSP Fiona Hyslop is backing Cancer Research UK's new Scale Down Cancer campaign to help prevent obesity-related cancers across Scotland.
Scotland has one of the heaviest populations in Europe, with two in three adults in Scotland overweight or obese and according to new calculations by Cancer Research UK, almost 83,000 children have started primary school overweight or obese in Scotland over the last decade.
Commenting, Fiona said;
"Sadly we will all know someone who has been affected by Cancer. Cancer affects more and more people every year and despite four in ten cancers being preventable, not enough of us know that obesity is the single biggest preventable cause of cancer after smoking. Given the devastating impact that cancer has on families across West Lothian, it's vital we take action on obesity.
"We mustn't let obesity continue to be the new normal in Scotland, and that's why I'm joining forces with Cancer Research UK and the Scale Down Cancer campaign."