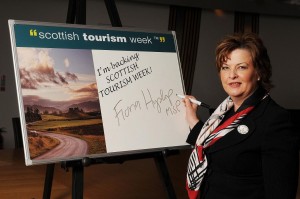 HYSLOP ENCOURAGES SCOTTISH TOURISM AS EDINBURGH CASTLE NAMED TOP TOURIST ATTRACTION
Fiona Hyslop MSP for Lothians has praised Edinburgh Castle for being named Scotland's Top Tourist Attraction by the Association of Leading Visitor Attractions and has encouraged her constituents to back our local tourism industry.
Fiona Hyslop commented,
"I am delighted that Edinburgh Castle has achieved this status and I am not surprised that it has gathered so many visitors and so much support throughout the year.
"Tourism is essential to our economy and our local community and we are very lucky to have such experiences and attractions on our doorstep.
"We also have a fantastic heritage in West Lothian with our magnificent Linlithgow Palace and the shale industry museum in Livingston.
"Despite a volcanic ash cloud and severe winter weather, visitor numbers at attractions in the Lothians have not faltered, proving that it is not just international visitors who take advantage of our beautiful surroundings and I am pleased that so many of us appreciate the importance of cultural heritage."