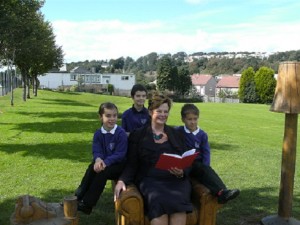 HYSLOP CELEBRATES BOGHALL PRIMARY SCHOOL ACHIEVEMENTS
Fiona Hyslop MSP for Linlithgow has visited (Friday, 2nd September) Boghall Primary to celebrate the school achieving Fairtrade School Status, their 3rd Eco Flag, 3rd Gold Award for Enterprise and their Rights Respecting School Level 2.
Ms Hyslop enjoyed a morning of celebrations with the staff and pupils and was present for the official opening of their new school artwork.
After the event, Ms Hyslop said;
"I am hugely impressed with the staff and pupils from Boghall Primary and what they have achieved for their school.
"Fairtrade addresses the injustices of conventional trade, ensuring better working conditions and it's great to see the pupils and staff work so hard to deliver this.
"We are also a leading country within the Eco-Schools movement so I am delighted that another West Lothian School is increasing awareness for environmental issues affecting their school and community.
"The work that Boghall Primary has put in to achieving further awards in Enterprise and for Rights Respecting Schools is certainly something to be proud of and I hope this infectious list of achievements will work its way through each school in West Lothian."