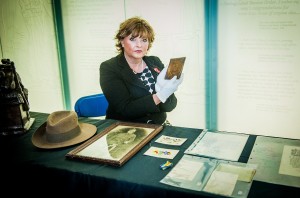 Bathgate Soldier Commemorated in National WWI Exhibition
Local Constituency MSP, Fiona Hyslop, who is pictured with belongings of Corporal Buchanan from Bathgate who fought in the First World War, launched the Exhibition Programme at Edinburgh Castle last week.
The Next of Kin exhibition will display memorabilia that has been kept by families of those who were lost during World War One .
Fiona said,
"We must never forget the impact that the First World War had on our country, our families and out communities.
"At the launch of the programme for the National Museum of Scotland, I was privileged to see items belonging to Corporal Buchanan which forms part of the exhibition. Objects included cards he sent to is family, a photo of himself and his medal and letter that was sent to his family after his death.
"The Next of Kin Exhibition will display personal memories and objects which will tell stories of hope and strength as well as loss and sadness. These family treasures demonstrate the human cost of the First World War and I would urge my constituents to visit the National War Museum in Edinburgh Castle to see first-hand this extraordinary piece of history when it opens."