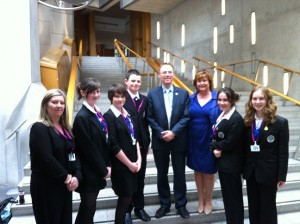 Broxburn Academy STEM group Celebrate Success in Parliament
Local MSP Fiona Hyslop met with pupils from Broxburn Academy's Award winning STEM (Science, Technology, Engineering and Mathematics) Challenge group when she invited them to the Scottish Parliament to congratulate them on their most recent STEM Challenge win.
Fiona said;
"I was delighted to invite the The STEM Challenge group from Broxburn Academy into the Scottish Parliament to see the building, watch First Ministers Questions and to congratulate them in person on winning STEM Challenge 9 earlier in the year.
"They got to meet the First Minister who engaged them in discussion about their Olympic/Paralympic Torch Challenge and he asked them to put their minds to the Commonwealth Baton for 2014. They in turn asked the First Minister about presenting Scotland using international comparisons.
"The group led by their physics teacher, Scott Bryce, has accomplished so much in recent years. I visited the school to mark their third place in last year's competition and I am so pleased that they came first in the competition this year.
"The students are quite rightly, very proud of their hard work. We have a great sense of creativity and innovation in West Lothian and so it is great to see such a high level of interest and ambition for digital creativity from the pupils at Broxburn Academy and congratulations for them for putting Broxburn on the map."