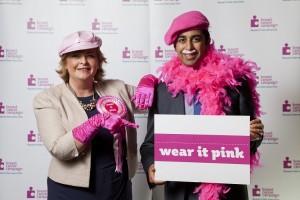 External Affairs Ministers go Pink for Breast Cancer Awareness
Fiona Hyslop MSP for Linlithgow joins the fight against breast cancer by wearing pink
Constituency MSP for Linlithgow, Fiona Hyslop has joined the fight against breast cancer by taking part in Breast Cancer Campaign's flagship fundraiser, wear it pink day.
The theme of wear it pink this year is to 'look good, do good' in support of breast cancer research. On Friday 24 October people across the country will come together to find fun and stylish ways to wear pink in the office, at home or at school. Donations raised by this year's fashion inspired event will go to Breast Cancer Campaign to fund lifesaving breast cancer research.
Fiona, who is pictured with her Deputy Minister for International Development, Humza Yousaf, commented:
"Every year in Scotland more than 4,500 women are diagnosed with breast cancer. Sadly, more than 1,000 women die from this disease each year. It is more important than ever to support Breast Cancer Campaign's fundraising efforts and world class research which is saving lives both locally in our towns and villages and right across Scotland.
"I know people who have lost friends and family members to the disease and I would like to encourage everyone across West Lothian to support wear it pink on October 24th, to raise awareness and valuable funds for breast cancer research."
Wear it pink on Friday 24 October to support Breast Cancer Campaign's lifesaving research. For more information or to register for wear it pink and receive your fundraising pack visit www.wearitpink.org.
For further information please contact:
Becky Endacott, PR & Celebrity Officer, T: 0207 749 3720 E: bendacott@breastcancercampaign.org
• Breast Cancer Campaign funds innovative breast cancer research, bringing together the brightest minds to share knowledge to produce better, quicker results to overcome and outlive breast cancer.
• As of June 2014, Breast Cancer Campaign funds 90 research grants throughout the UK and Ireland, worth over £13 million. We currently fund 7 grants in Scotland worth £1,354,320.
• Breast Cancer Campaign has launched the campaign '#spreadtheword to stop the spread', to highlight that breast cancer is not a done deal. Visit breastcancercampaign/spreadtheword
• Breast Cancer Campaign's action plan Help us find the cures sets out 66 key actions Breast Cancer Campaign will take to address the gaps in breast cancer research to overcome and outlive breast cancer by 2050. breastcancercampaign.org/breast-cancer-research/help-us-find-the-cures
• The Breast Cancer Campaign Tissue Bank, the UK's first ever national breast cancer tissue bank, is a unique collaboration with four leading research institutions to create a vital resource of breast cancer tissue for researchers across the UK and Ireland. Visit breastcancertissuebank.org
Breast cancer is the most common cancer in the UK and accounts for nearly one in three of all cancers in women. In the UK, around 50,000 new cases of breast cancer are diagnosed each year – that's 138 a day. Visit breastcancercampaign.org or follow us at twitter.com/bccampaign