Fiona Delighted with Unanimous Candidate Endorsement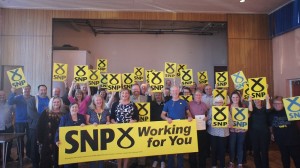 Fiona Hyslop, the current constituency MSP for Linlithgow, has been unanimously selected by members from Bathgate, Whitburn, Broxburn, Armadale and Linlithgow – all five branches in the constituency – to stand as the SNP candidate for Scottish Parliament Elections in May 2016.
Commenting after the meeting where Fiona received full endorsement from members, she said;
"I am absolutely delighted to have been reselected by our members to stand as the SNP Candidate for the Linlithgow Constituency at next year's Scottish Parliament Election.
"To serve as the local MSP for Linlithgow for the last five years has been a privilege and an honour and I look forward to continuing my hard work for and on behalf of my constituents and ensuring that West Lothian remains a priority for the Government elected in May 2016."
Janet Campbell, Convenor of the Linlithgow Constituency Association added;
"I am thrilled that Fiona will be the sole nominee going forward for the Scottish Parliament Election. Her unanimous reselection is testament to the work she is committed to doing for West Lothian and her constituents."
ENDS
Extra Info:
Fiona won the Linlithgow seat in 2011 from Labour's Mary Mulligan by 4,091 (12%) votes – a 10.8% swing to the SNP.
Fiona Hyslop also served as a Lothians List MSP from 1999 – 2011.
Fiona is the Current Cabinet Secretary for Culture, Europe and External Affairs in the Scottish Government.