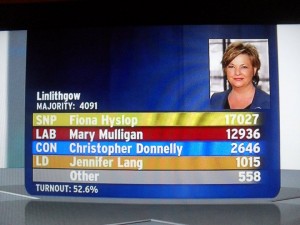 FIONA HYSLOP ELECTED MSP FOR LINLITHGOW
Tuesday, 10 May 2011
Fiona Hyslop has been elected as MSP for the Linlithgow Constituency with 17,027 votes – the 3rd biggest vote in Scotland and a 4000 majority.
She declared;
"I am delighted and honoured to be elected for the Linlithgow Constituency where I live and bring up my family.
"It was a great result for the SNP nationally and as my result came in with the dawn on the Bathgate hills – a new political dawn emerged. People responded to our positive vision for Scotland and our record of delivery for West Lothian.
"West Lothian has long been closely fought between SNP and Labour and just over a year since Billy Wolfe died I dedicated the win to him. My election team reached out to campaign across all the villages and towns in the constituency and did a brilliant job.
"I would like to pay tribute to and thank Mary Mulligan for her years of service to West Lothian and wish her well for the future.
She continued,
"The hard work begins now and I will seek to serve all my constituents, whether SNP supporters or not, to my best of my abilities and to fight for and promote the interests of West Lothian."
-ends-
Stats:
Votes:
Fiona Hyslop 17027
(SNP)
Mary Mulligan 12936
(LAB)
Christpher Donnelly 2646
(CON)
Jennifer Lang 1015
(LD)
Other 558
Majority: 4091
Swing: 6.4% LAB to SNP
Turnout: 52.5%