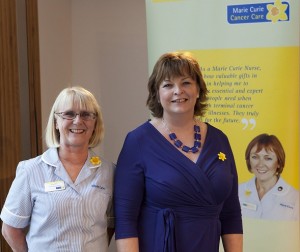 Fiona Hyslop MSP Joins Marie Curie Cancer Care at Scottish Parliament
Fiona Hyslop joined Marie Curie Cancer Care at the Scottish Parliament this week to learn more about the work carried about by the charity to provide free end of life care to people with terminal illnesses.
Sporting one of the charity's daffodil pins in support of the annual Great Daffodil Appeal, Fiona Hyslop spoke to Marie Curie nurses and staff about the free end of life care available to local communities across Scotland.
Fiona said;
"I am very happy to support the good work of Marie Curie Cancer Care throughout West Lothian. Between 2009 and 2011, Cancer was the main cause of death in West Lothian and Marie Curie Nurses understand the importance of offering the best palliative care possible for their patients.
"The last moments of a person's life should be as important as their first and I am proud to wear my yellow daffodil in support of Marie Curie Cancer Care this March."
Commenting upon the importance of continued support for the charity, Emily Hogg, Legacy Adviser who organised the event for Marie Curie said:
"Every March, people can support our Great Daffodil Appeal by making a donation and wearing one of our daffodil pins. However, there are many ways for people to support Marie Curie all year round. For example, we depend greatly on the donations left to us in Wills and every gift, whatever size, helps us to meet the challenges of providing free care for terminally ill patients. Currently Gifts left in Wills fund the equivalent of two in every three Marie Curie Nurses so are a vital income stream to the charity"