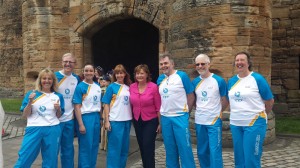 Fiona joins 29,500 West Lothian People to Greet Baton and Bearers
Local MSP Fiona Hyslop has celebrated the arrival of the Queen's Baton in West Lothian on Sunday (15th June) and congratulated the event's Baton Bearers.
Fiona commented:
"I was delighted to welcome the Queen's Baton to West Lothian at the weekend, where I believe an estimated 29,500 people turned out to cheer it across the region.
"Crowds came out to support the Queens Baton Relay in all corners of West Lothian. 1,700 people in Broxburn, 1,800 in Armadale, 5,000 in Whitburn, 6,200 in Linlithgow 7,300 in Bathgate and a massive 7,550 in Livingston.
"The whole event was very well organised and I would pass on my special congratulations to all our wonderful baton bearers who helped make the event possible."