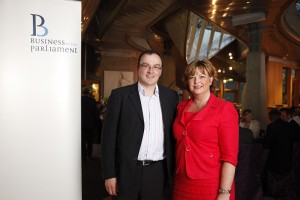 Hyslop Attends Business in Parliament Conference
Fiona Hyslop MSP and her guest, local Businessman from Linlithgow, Ewan Hunter attended the Scottish Parliament's annual Business in Parliament Conference on Friday (June 8th, 2012).
Hyslop, who attend the conference as a local MSP said;
"This conference is a fantastic opportunity for local businesses and business people to learn from the days events and meet like-minded people from other communities.
"The conference was filled with such experienced speakers as entrepreneur Sir Tom Hunter and the First Minister of Scotland and the Parliament hosted informative workshops for the MSPs guests.
> "Bringing together MSPs, senior business figures and key organisations from across the country, this conference has today examined the depths of Scottish entrepreneurialism and our desire for development of our businesses in Scotland."
Ms Hyslop's guest, Mr Ewan Hunter, Director of Hunter Search – a specialist Executive Search recruitment business – added;
"The conference was a tremendous opportunity for businesses and politicians to get together and discuss many of the challenges that face all of us. I thought the sessions were very productive and highlighted a number of areas where business & government can collaborate to improve things for everyone."
"The focus on entrepreneurship & internationalisation gave the delegates much to discuss. Having heard an inspiring speech by Sir Tom Hunter the breakout sessions seemed to build on that and we heard some excellent feedback & suggestions in the subsequent discussion in the chamber. I look forward to hearing the outcome of these suggestions and to returning to future Business in the Parliament events"