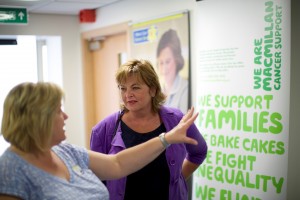 Fiona Hyslop MSP with Gail Allen, Marie Curie Day Services Manager
Hyslop Attends Launch of West Lothian Palliative Care Services
Local Constituency MSP Fiona Hyslop met with staff and volunteers at the launch of West Lothian's new palliative care partnership between Marie Curie Cancer Care, NHS Lothian and MacMillan Cancer Support. She was also given a tour of the centre by Gail Allan, Marie Curie Day Services Manager.
The Centre received over £500,000 from MacMillan Cancer Care to provide privacy and dignity for patients and their families as well as improving clinical efficiency and creating a welcoming environment.
Commenting after the visit, Fiona said;
"I was delighted to visit the new Palliative Care Service Centre at St John's in Livingston and see first-hand the extensive refurbishment work that has taken place.
"It is so important to ensure that our loved ones receive high quality end of life care. The emotional and medical advice and support available to residents in West Lothian is second to none and I am proud to represent an area of Scotland which holds these precious moments in such high regard.
"I would like to congratulate those involved in creating such a dedicated and remarkable centre, which I believe is the first of its kind in Scotland."