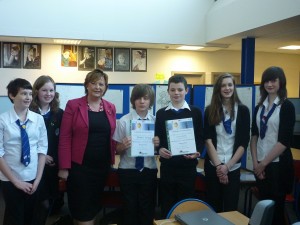 Hyslop Congratulates Broxburn on STEM Challenge Win
Local MSP, Fiona Hyslop has written to congratulate a group of Broxburn Academy pupils who came first in the latest STEM challenge out of eight finalists across the UK.
The challenge was to design a human-powered invention for creating the spark which lights the Paralympic Flame. The pupils also came third out of 260 schools in the UK last year after designing a mobile phone app for the 2012 Olympic Games. (see photo above of Fiona Hyslop meeting the STEM pupils late last year for Challenge Eight)
On hearing the news, Fiona said;
"I am so pleased to hear that Broxburn Academy have won this year's STEM challenge (number 9), this is a huge achievement for the pupils involved and the school as a whole.
"I visited the school to meet with the pupils when they came 3rd in last year's competition and they were quite rightly, very proud of their work.
"Scotland as a whole is a hugely creative and innovative nation and so it is great to see such a high level of interest and ambition for digital creativity from the pupils at Broxburn Academy and well done to them for putting Broxburn on the map."
For more information go to:
http://www.stemchallenges.net/about