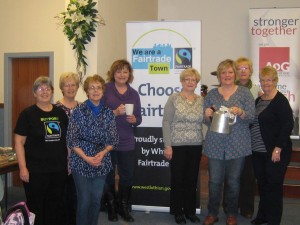 Hyslop Highlights West Lothian Activities Fairtrade Fortnight in Scottish Parliament
Tuesday, 10th March 2015
Local Constituency MSP, Fiona Hyslop highlighted the work of West Lothian Fairtrade Groups at a Fairtrade Fortnight Reception in the Scottish Parliament to mark the second anniversary of Scotland being a Fairtrade Nation.
Fiona said,
"West Lothian has always been a champion of Fairtrade, this year I attended a Fairtrade coffee morning in Whitburn. We have active Fairtrade groups across the county and would encourage constituents interested to support them. Their achievements are a credit to the hard work of the local steering groups and I would thank them for every effort.
"I was also delighted to speak at the Parliament's reception for Fairtrade Fortnight and to celebrate our 2nd anniversary of being a Fairtrade Nation.
"The principle behind Fair Trade is very simple. It is the idea that producers in the developing world should be paid a fair price for the goods that they produce. It requires us as consumers to make choices that mean, in some cases, we might have to pay a little extra for something – but the extra money that we pay goes towards ensuring that producers can send their children to school and can afford to feed their families. A small sacrifice for us, in order to make the world a better place."