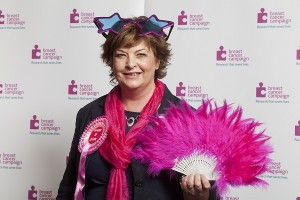 Hyslop Joins the Fight Against Breast Cancer
Local Constituency MSP, Fiona Hyslop has joined the fight against breast cancer by taking part in Breast Cancer Campaign's biggest (and pinkest) fundraiser, Wear it Pink Day.
Over the last 10 years wear it pink has raised a staggering £23 million and on Friday 25 October 2013 people will come together in schools, colleges and businesses across Scotland to raise vital funds for Breast Cancer Campaign's lifesaving research.
Fiona commented;
"Every year in Scotland around 4,400 people are diagnosed with breast cancer, including around 25 men. I know many of my constituents will have been affected by cancer in some way and so I would encourage everyone who can to donate or raise awareness of this important campaign."
To register for wear it pink and receive your fundraising pack visit www.wearitpink.org or call 0800 107 3104.