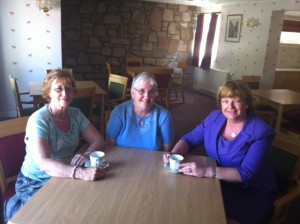 Hyslop Marks Volunteer Week in Linlithgow
Local MSP, Fiona Hyslop has visited Brae Court in Linlithgow to mark Volunteers Week 2012 (June 4th -10th).
Commenting at her visit, Ms Hyslop said;
"I am delighted to be at Brae Court in Linlithgow to mark the hugely important work that our volunteers do.
"Volunteers Week is a great opportunity to showcase our volunteers and ensure that their dedication and hard work is recognised.
"Today I have met many volunteers and staff at Brae Court, run by Bield Housing Association and have seen first-hand the contribution they make to their communities and the benefits they offer our society.
"They're work is an inspiration and I am more than happy to highlight their efforts."