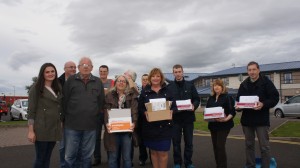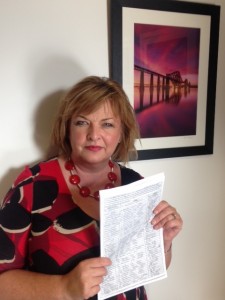 Hyslop Meets with Airport Chief Executive over Flight Path Route
Fiona Hands Over Public Petition When Meeting Edinburgh Airport Chief Executive
Fiona Hyslop MSP for the Linlithgow Constituency has met with Gordon Dewar, Chief Executive of Edinburgh Airport and Gordon Robertson, Director of Communications to relay her concerns about the flight path trial and express the views and experiences of her constituents from the affected towns in West Lothian. (On Wednesday, 9th September)
The meeting took place the day before a Parliamentary Debate (Thursday 10th September) on the issue was held at Holyrood.
Fiona, who is in the process of conducting a survey of thousands of households, has said;
"I have now received an overwhelming number of complaints from residents regarding the flight path trial so I was pleased to have the opportunity to meet with Gordon Dewar face to face to relay the experiences and view of my constituents. I was also able to hand over a petition against the airport flight path that was handed to me by residents of the Western side of Uphall which Mr Dewar and Mr Robertson took away with them to add to their list of complainants.
"Mr Dewar admitted that the Airport had not anticipated that there would be such disruption in Uphall and Broxburn in particular and they have agreed to publish a new FAQ section on their website which will respond to specific questions that have been raised both to me and to Edinburgh Airport from residents of the affected areas.
"I was also pleased to hear the Transport Minister, Derek MacKay say in today's (December 10th) debate that he will be contacting the airport to ask if the trial can be ended early once the Airport has the date it needs."