HYSLOP NOMINATES LOCAL VOLUNTEER FOR PARLIAMENT HERO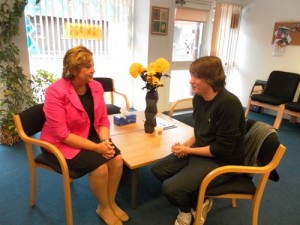 SNP MSP for Linlithgow, Fiona Hyslop has nominated local volunteer, Graeme Black to be her guest at the Scottish Parliament's Local Hero and Riding of the Parliament Ceremony on July First to mark the official opening of Holyrood's fourth session.
Nominated by MSPs in recognition of their important personal contribution to the lives of people in Scotland, a total of 98 heroes have been nominated to-date and will take part in a 'Riding' along Edinburgh's Royal Mile on Friday 1 July.
Fiona said;
"The opening of Session Four of the Scottish Parliament is a chance for us to celebrate the efforts of genuine local heroes from across the country.
"Graeme Black has been involved in Voluntary work since he was 16 years old and he won Young Volunteer of the Year at last year's West Lothian Awards Ceremony.
"Graeme's Voluntary work in West Lothian has been an inspiration to other young people across the region and I am delighted to nominate him as the Linlithgow Constituency's local hero and give him recognition for the important work he does."