HYSLOP PRAISES LOCAL SHALE PEOPLE PROJECT AT LAUNCH EVENT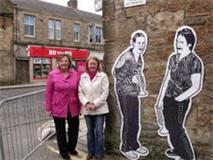 Fiona Hyslop, SNP Candidate for Linlithgow has praised the work of Broxburn born visual communicator, Shirley Anne Murdoch and local artists and musicians from Broxburn, Uphall and Livingston when she attended the launch of the Shale People Project at the Strathbrock Centre on Saturday.
Commenting after the launch Fiona said,
"The aim of this project was to reconnect the current local communities with those of the original 'Shale People' community and in seeing the wonderful turnout for Saturday's launch it is clear that the efforts made have paid off. The mural at Uphall and the life-size caricatures are very striking.
"Shale oil is an important part of our industrial heritage, so it is right that the community are remembered and acknowledged in this way.
"I am proud to have attended this important and memorable event and hopefully we shall see other projects like this across the vibrant communities in West Lothian."
Extra info:
The towns of Broxburn and Uphall in West Lothian, once at the very heart of the new shale oil industry, grew up as fast as the need for the locally produced paraffin oil, soap and candles.
Situated just ten miles from Edinburgh, both co-joined towns found their global economic importance dwindling as fast as the shale mining industry they were dependent upon.
Both towns continued to grow due to their enviable geographic location and a community of hard-working people- however their local economies have struggled against the fast and positive growth of nearby Livingston.
The towns, like many of West Lothian's original mining communities are now benefitting from recent funding to re-generate 'dated' environments.