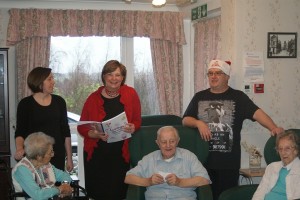 Hyslop Presented with Linlithgow Care Home Recipe Book
Fiona Hyslop MSP for Linlithgow visited the St Ninians Linlithgow Care Home today (Monday, 19th December) to be presented with a recipe book that she contributed to.
The recipe book was to raise money for the Care Home's Resident Comfort Fund and was presented by the staff and residents of the St Ninian's care home.
Commenting Fiona said,
"The residents and staff here at St Ninians in Linlithgow have worked hard to put this book together and I was more than happy to contribute to it.
"I would like to thank Alison Conn and her colleagues and of course the residents who invited me back to St Ninians to receive my very own copy. "