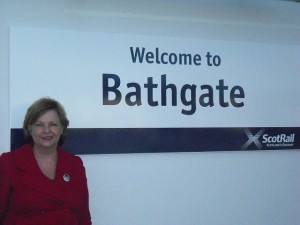 Hyslop Secures Council Commitment for Bathgate Parking
Constituency MSP, Fiona Hyslop who has been pursuing the case for more car parking at the railway station, has secured agreement from West Lothian Council to use the old railway station car park in Bathgate to host the overspill from the town's new railway station car park while the finding and delivery for the new car park is being delivered.
She said,
"The new station has been a tremendous success since its opening and figures are very encouraging, of course, with this comes the issue of too few parking spaces.
"I wrote to the council to ask about the option of using the car park at the site of the old railway station as well as asking them to identify alternative parking options for commuters and travellers in West Lothian.
"I am delighted to confirm that from early 2014 Network Rail and Transport Scotland plan to extend the car park eastwards into the area that was utilized as a site compound during the Bathgate – Airdrie project. Furthermore, West Lothian Council are hoping that the old station car park can be re-opened for public use by mid-April 2013, which will help alleviate some of the problems identified by members of the public residing close to the new station in the meantime."