HYSLOP SUPORTS WEST LOTHIAN CARERS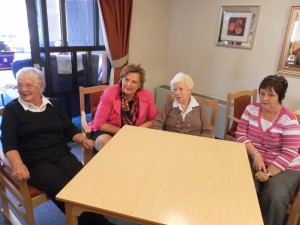 Local MSP, Fiona Hyslop has visited St Andrews Court Care Home Development in Uphall highlight her support for Carers Week. (13th -19th June)
Carers Week takes place each year and celebrates the enormous contribution made by Scotland's 657,000 unpaid carers and 100,000 young carers as they provide personal, emotional and practical support to family members who can't manage without their help because of disability, frailty, sickness or substance misuse or mental health issues. The contribution carers and young carers make to society is estimated to save the public purse £7.68 billion a year.
Commenting Ms Hyslop said;
"I was delighted to meet with Helen McLeod and her colleagues from St Andrew's Court Care Home to discuss issues important to them and meet some of the residents that they care for.
"The volunteer staff in St Andrews Court Care home in Uphall work extremely hard and make a vital contribution to our society.
"It is challenging work and it is important that carers receive the support they need, especially when considering how difficult it can be to have a life outside of caring.
"Carers throughout West Lothian do a fantastic job and I was so pleased to meet some first hand to highlight the work they do and give them the recognition