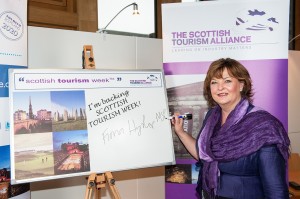 Hyslop Supports West Lothian Tourism
Local constituency MSP, Fiona Hyslop has signed up to pledge her support for Scottish Tourism Week (4th – 13th March) marking the natural beauty of West Lothian in the Scottish Government's Year of Natural Scotland.
Fiona said;
"Here in West Lothian we have no shortage of attractions or culture for local and international visitors and that is why I am proud to support one of our key industries in Scottish Tourism Week.
"Just last year, the number of visitors to Scotland rose by 5 per cent, just in time for our Year of Natural Scotland in 2013.
"I am confident that these numbers will have a local impact on tourism for West Lothian, with visitors flocking to see the beauty of the Bathgate hills, or Beecraigs Park or our towns that are steeped in history and culture."