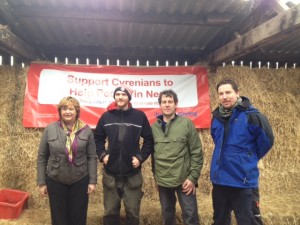 Hyslop Visits Bathgate Cyrenians to Mark 10th Anniversary
Local MSP Fiona Hyslop has visited the Cyrenians in Bathgate to mark 10 years of delivering services to West Lothian communities.
Fiona heard about the Bathgate facilities before heading to see the work in their unique farm and local residential community.
Fiona said;
"I am delighted to visit the Cyrenians SmartMove facilities in Bathgate to mark their 10th anniversary here in West Lothian.
"Cyrenians in West Lothian work extremely hard to support those in housing need. The support, development and advice they offer are a huge help in tackling homelessness across the region.
"It has been great to meet the staff and volunteers who have successfully delivered such an important charity locally, who devote an enormous amount of time helping the lives of others."