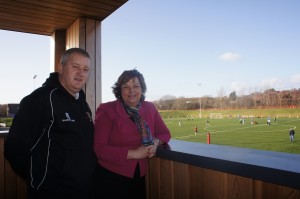 Hyslop Visits BUSC Free Play Afternoon
Monday, 27th February
Local MSP Fiona Hyslop has visited Broxburn United Sports Club's Free Play initiative at Albyn Park to highlight the work they do for children and young people in the community.
After the visit, Fiona said;
"BUSC's Free Play Club regularly has around 100 children and young people who come along to enjoy the services they offer.
"Young people are permitted to use these facilities for free during school hours and after school hours they can participate in school coaching and school sports days. The Club also work with schools at Primary three level who learn the importance of Health and Safety in sport and at school.
"On top of this, according to local police, Anti Social Behaviour in Broxburn has dropped by 35% in the time that the Free Play Club has been in operation.
"I was pleased to meet with BUSC President James Pegg and was very impressed to see the hard work and commitment he has delivered for the young people of Broxburn"