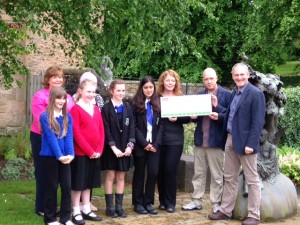 Hyslop Welcomes £1,000 Funding for Linlithgow Gala Day
Constituency MSP, Fiona Hyslop has welcomed the news that £1000 from the Party at the Palace ticket sales has been awarded to the Linlithgow Children's Gala Day Committee.
Fiona commented;
"It was great to meet with John Richardson, the event organiser, and representatives from Linlithgow's Children's Gala Day and to hear how their event is helping local organisations in the community.
"I understand from Party at the Palace, that Mr Richardson's has sourced a number of supporters locally, putting the benefits of the event right back into the community. The organising of this event has already received very positive feedback from local businesses and residents alike as people see the importance of putting Linlithgow centre stage as a cultural venue.
"I wish them well in their endeavours and am pleased that they have had such co-operation form Historic Scotland and the local community – I am sure it will be a fantastic event."
ENDS
For ticket sales please go to: http://www.partyatthepalace.co.uk/tickets