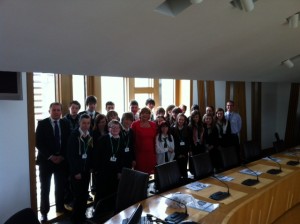 Hyslop Welcomes Bathgate Pupil Council to Parliament
SNP MSP for Linlithgow Constituency, Fiona Hyslop has today met with the staff and pupils from Bathgate Academy who sit on their pupil council. Ms Hyslop organised a tour and room for the group where she could sit and discus their work.
Fiona said;
"This is the second year I have hosted Bathgate Academy's Pupils Council in the Holyrood Building and I am delighted to meet with them again this year.
"The pupil council in Bathgate are always very keen to learn more about the Scottish Parliament and the role politics plays in everyday life.
"I am pleased to spend time responding to their questions and share views on local and national issues that are important to them."