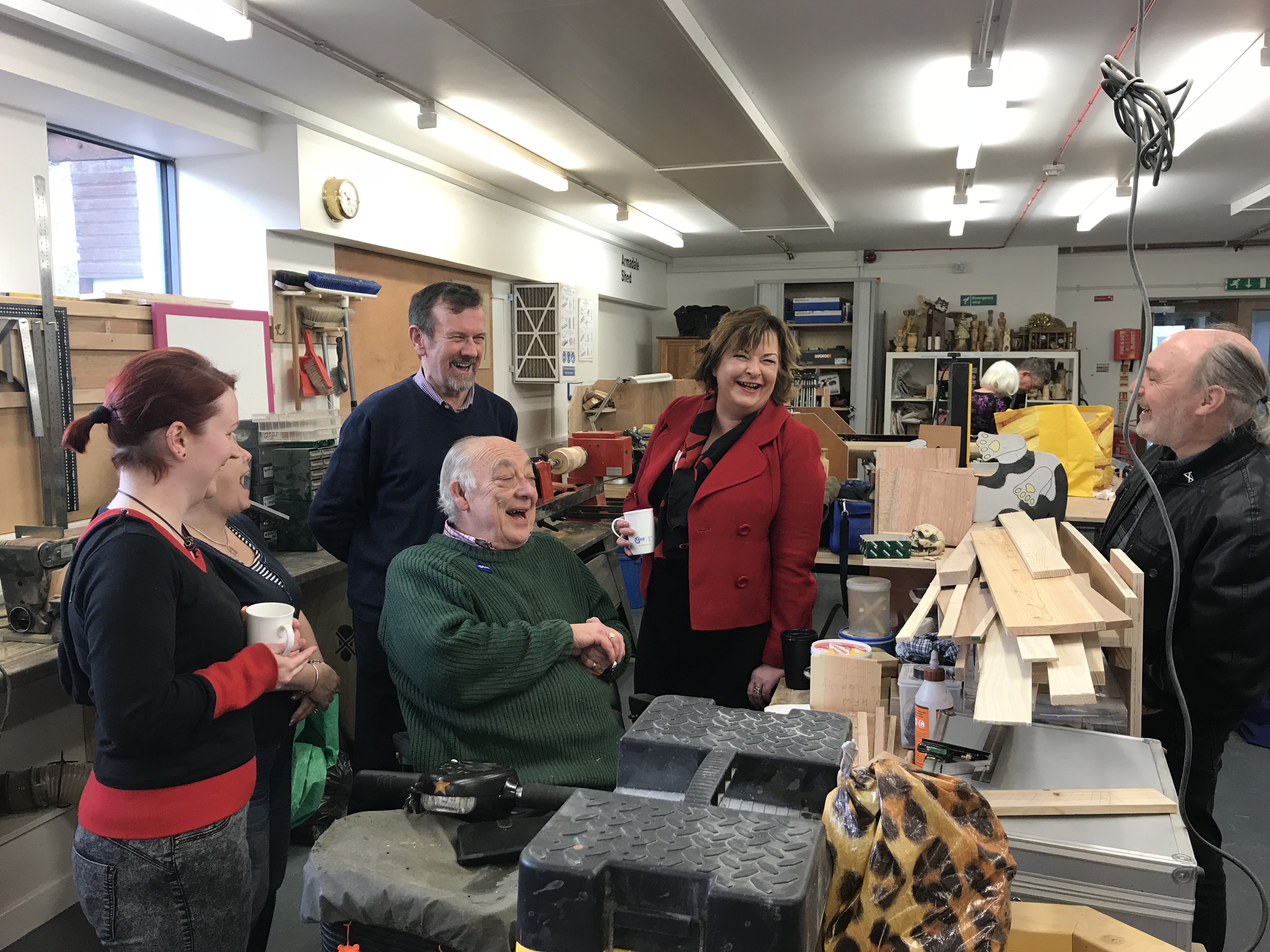 Hyslop Welcomes Time to Talk Campaign in Armadale
Local Constituency MSP Fiona Hyslop and Armadale Councillor Sarah King are supporting 'Time to Talk' – The See Me Scotland campaign that encourages people to talk about mental health and to highlight that anywhere, any time is a good place to start.
The Shed in Armadale is a great place for people to come together to socialise as they use or learn new skills, like wood or metal work or weaving.
Fiona said;
"I am very pleased to support and raise awareness for Time to Talk Day. There are too many people in society who are still made to feel isolated or embarrassed by mental health issues – one important way to combat this, is to talk about it.
"The 'Time to Talk' Campaign taking place on Thursday, February 1st, calls upon all of us to show that any place can be right for talking about mental health and the more we do it, the more we understand, and the more help we can offer.
"Mental Health shouldn't be a discussion that is hidden away and so whether you happen to be at a café, on the bus, or at work, I would encourage all my constituents on February 1st and beyond to take the time to talk about mental health and to spread the word to break the stigma."
Councillor King added;
"This is a really important campaign which aims to promote a greater understanding and more positive attitude towards mental health. Talking openly about mental health is good for all of us, helping to end discrimination, improve health outcomes and build a fairer and more inclusive society."
ENDS
Editor Note:
Fiona Hyslop and Sarah King visited the Armadale Shed to highlight the campaign because of the organisation's community focus and their aim to combat isolation and loneliness and encourage social interaction through different hobbies.
The Armadale Shed is a community run and managed space where people can go to socialise with others while enjoying various activities and workshops.
The Armadale Shed offers a place for members to share tools, resources and materials while working on projects of their choosing at their own pace in a safe, friendly and inclusive environment.
There is always a wide range of different activities on offer, from wood turning, wood working and weaving to metal work. The shed is also a great place to socialise so if you're not sure about the activities, why not go along anyway and enjoy a cup of tea and a good chat.
For more information on the campaign or the work that See Me Scotland do, visit:
https://www.time-to-change.org.uk/get-involved/time-talk-day-2018