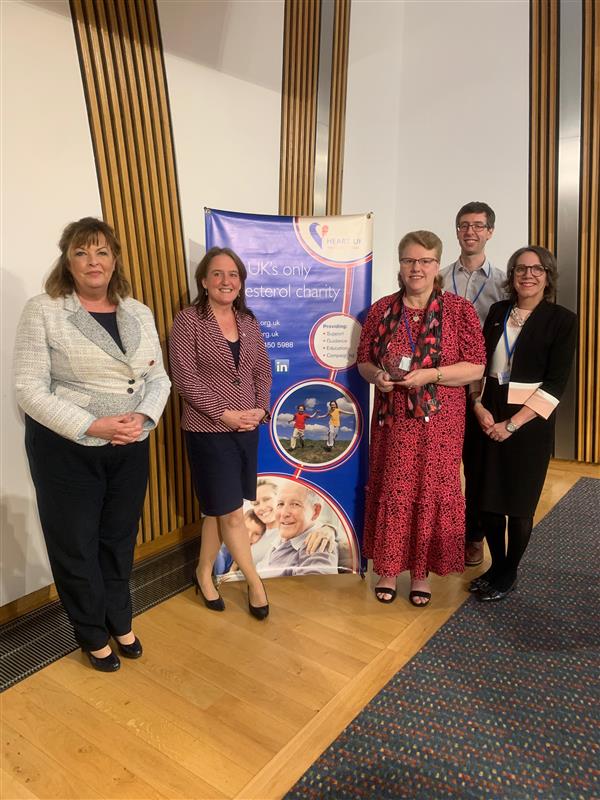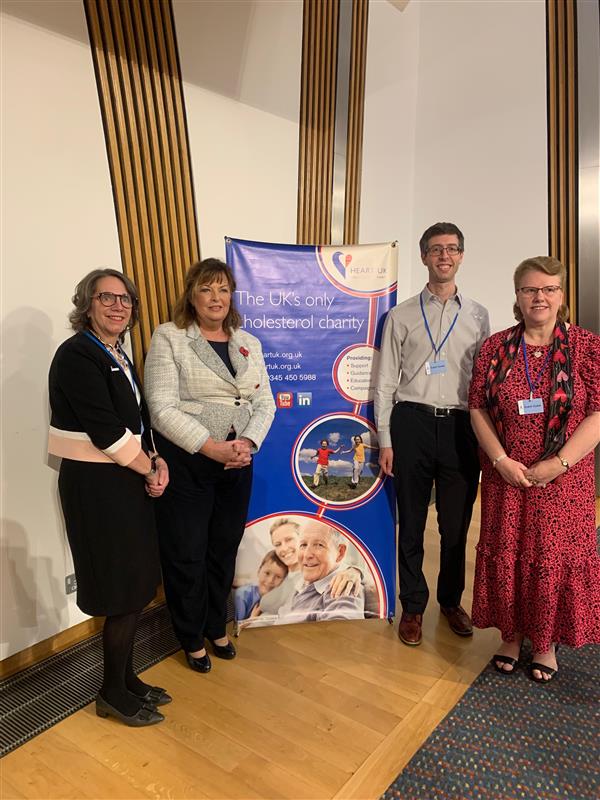 Local MSP for the Linlithgow Constituency, Fiona Hyslop, sponsored a Lipid Management in Scotland Roundtable in the Scottish Parliament with HEART UK on Thursday 3rd November.
With so many avoidable deaths from coronary heart disease early identification of familial inherited high cholesterol is key in improving deaths from heart disease.
Patsy Petrie from Linlithgow is Heart UK's only Scottish Ambassador but such has been her effort and impact in raising the issue of Familial Hypercholesterolemia – inherited levels of high cholesterol she was awarded the Volunteer of the Year Award for her work by HEART UK at the event attended by Public Health Minister Maree Todd.
The Roundtable which Fiona held with HEART UK featured other experts with first hand experience of the impact of the condition and how it is managed including patient groups and national clinical and policy decision makers.
HEART UK are the UK's only cholesterol charity and provide support, information and influencing services for families and health professionals. Their aim is to prevent early disease and deaths from cholesterol and other blood fat (lipid) conditions.
Commenting after the event Fiona said;
"I was pleased to host today's Roundtable with HEART UK in the Scottish Parliament and appreciate the time taken by healthcare professionals to join the discussion and raise awareness of the issues in this area.
"I became involved with HEART UK as their Patient Ambassador for Scotland, Patsy Petrie, lives in Linlithgow in my Constituency and her enthusiasm and commitment to raise awareness of inherited high cholesterol and her excellent campaigning work led to the event at Holyrood with MSPs.
"It was fantastic to see HEART UK recognise the work of Patsy Petrie and present her with their Volunteer of the Year Award at the event in the presence of Scottish Government Public Health Minister Maree Todd, and I would like to add my congratulations to Patsy for this.
"While it is clear that both the Scottish Government and HEART UK work to prevent heart disease in Scotland, it is important to ensure that we improve the early diagnosis of inherited high cholesterol which can lead to higher risk of cardiovascular conditions and that they receive the best care possible.
"The Roundtable also provided an opportunity for HEART UK and other medical professionals to raise this issue directly with Maree Todd, the Minister for Public Health, Women's Health and Sport."
ENDS