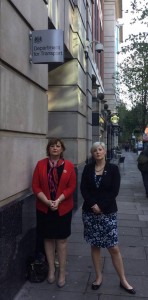 LOCAL MEMBERS HANNAH BARDELL MP & FIONA HYSLOP MSP TAKE CASE FOR INDEPENDENT AVIATION NOISE AUTHORITY (IANA) TO UK TRANSPORT MINISTER
At a meeting on Monday 17th October 2016 with the UK Transport Minister, local representatives for the West Lothian constituencies of Livingston and Linlithgow Hannah Bardell MP & Fiona Hyslop MSP lobbied the new Transport Minister Lord Ahmed to establish an Independent Aviation Noise Authority (IANA).
The same report that recommended a third runway at Heathrow also recommended the setting up of an Independent Aviation Noise Authority which would have a responsibility to monitor and manage aviation noise, flight paths and other operating procedures. The Davies Report clearly stated that;
"An Independent Aviation Noise Authority should be established with a statutory right to be consulted on flight paths and other operating procedures. The authority should be given statutory consultee status and a formal role in monitoring and quality assuring all processes and functions which have an impact on aircraft noise, and in advising central and local Government and the Civil Aviation Authority on such issues".
Following a trial flight path at Edinburgh Airport last summer (2015) which resulted in complaints from the local residents to their elected representatives, Hannah Bardell MP has been calling for the UK government to introduce the IANA sooner than later. She and Fiona Hyslop MSP both submitted consultation responses to Edinburgh Airport last month as the Airport asked for feedback on local factors to be considered when changing the airspace. In May of this year, Hannah held a debate in the House of Commons where the Minster said he could not take a decision on setting up IANA until the decision on the third runway at Heathrow had been made.
The meeting in London on Monday of this week was another opportunity to ask the UK Transport Minister about setting up IANA. He said that he did not want to take a decision on IANA before the Heathrow decision was made, however he was willing to listen to the benefits of this as well as the argument that they would need not be mutually exclusive. Ms Bardell and Ms Hyslop also expressed their concerns on the government's plan to sell its shareholding in NATS thereby privatising the airspace and the body which also designs flight paths, citing a conflict of interest.
Hannah Bardell MP for the Livingston Constituency said:
"I am grateful to the Minister for meeting with myself and Fiona and for taking on board the concerns of our constituents and indeed the aviation sector, as I know a number of airports are supportive of an IANA. The establishment of an IANA is an opportunity to bring business interests and communities together and one that I would like to see in the very near future. As the Heathrow announcement gets closer, this is a good time for a decision on an IANA but the two are not mutually exclusive. Residents in my Livingston Constituency should not have to wait for a decision in the South of England before this decision is made.
An IANA would be good for every community. It is an issue which affects many people and which transcends party politics. It is my intention to set up an All-Party Parliamentary Group on Aviation Noise and I will be seeking support from colleagues from other parties who have spoken about concerns raised by their constituents on aviation noise."
Fiona Hyslop MSP for Linlithgow added;
"It was a useful and constructive meeting and I hope that the Minister will continue to engage with my colleagues here at Westminster and indeed in the Scottish Government. I surveyed 15,000 homes in the constituency and there were a range of views expressed. While the vast majority of my constituents are concerned about excessive noise levels, many also understand the benefits a local airport can bring.
"However all of those who have expressed their views to me were clear that proper consultation and engagement is vital. The establishment of a wider Aviation Authority that can consult with local noise associations, such as the one Edinburgh airport is setting up, is a sensible way forward. I hope the Minister will act swiftly and work with us to learn the local lessons of our constituents in West Lothian."