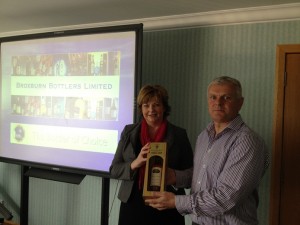 Fiona Hyslop Visits Broxburn Bottlers During Whisky Centenary Year
Fiona Hyslop MSP for Linlithgow Constituency has visited Broxburn Bottlers today during the centenary year of the Scotch Whisky Association.
The SWA will mark this occasion with a number of events, including a reception held in the Scottish Parliament earlier this year, which Fiona Hyslop attended. An Exhibition will run at Holyrood later in the year.
"It was great to see round Broxburn Bottlers – a company employing around 200 locals and I am pleased that a company based in West Lothian is contributing to the increased sale of Scotch Whisky internationally.
"Last year, Scotch Whisky exports rocketed by almost a quarter in value to £4.23 billion.
"I was very impressed with what I saw at the company and how they valued highly a highly skilled workforce and it was great to see the complex process which exports whisky, vodka and other bottled drinks of every shape and size to over 150 countries all over the world."