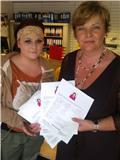 LOCAL RESIDENTS SIGN HYSLOP'S X14 PETITION
Local MSP, Fiona Hyslop has sent a petition containing over a hundred of local signatures to the First Bus Group's Managing Director this morning after being inundated with constituents pleading for the X14 bus service to be reinstated.
The withdrawn X14 service used to go from Whitburn, West Lothian to Glasgow and has now left passengers of all ages and abilities to make their way to Armadale Train Station or Livingston Bus Station in order to find transport to Glasgow.
Commenting, Ms Hyslop said;
"I am not at all surprised by the volume of complaints we have had regarding the X14 bus withdrawal.
"The vast majority of constituents that have contacted me are elderly or vulnerable and find it extremely difficult to get to Armadale to catch the train to Glasgow, particularly when they are in possession on a free bus pass which they cannot put to use.
"Many older residents in Whitburn came from Glasgow and came to what was then new housing for the jobs in West Lothian. They still have many family and friends in Glasgow that they would travel by bus to see.
"I understand that there has been discussions regarding this bus service but before First Group come to any further arrangement, I want it known to them exactly how many people in my constituency are unhappy with their current decision."