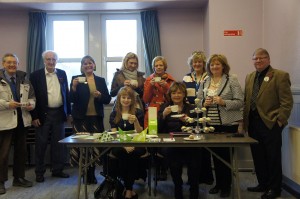 Tea with Your MSP raises £60 for MacMillan Cancer Support
SNP MSP for Linlithgow, Fiona Hyslop has raised £60 in just under two hours for MacMillan's Cancer Support earlier this week.
Ms Hyslop's coffee morning which begun at 10am on Monday, 5th November in Whitburn Burgh Halls, attracted members of the Whitburn and wider West Lothian Community who helped fundraise for MacMillan Cancer Support.
Fiona commented:
"I am delighted at the number of West Lothian people who attended the coffee morning to give their donations and support to Macmillan Cancer Care.
"I am aware that I have many constituents who have had personal experiences with Cancer and been involved with the charity in the past.
"In this short space of time we managed to raise around £60 by offering people tea, coffee and biscuits. Some constituents even brought their own home baking to sell and gave all their proceeds to Macmillan Cancer Care.
"I am very pleased that this morning was such a success and I am pleased to support this charity and take part in their events in the years to come."