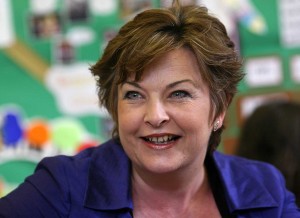 FIONA HYSLOP RE-ELECTED MSP FOR LINLITHGOW WITH MAJORITY DOUBLED

Fiona Hyslop has been re-elected as MSP for the Linlithgow Constituency with 19,362 votes – receiving over 50% of the vote across the constituency and doubling her majority over Labour to 9,335.
She secured the second highest number of votes for the SNP in the country in this one of the biggest seats in the country. The SNP have now secured an historic third term in Government – something no other party in Scotland has been able to achieve at Holyrood.
Speaking after the result was declared Fiona said;
"It is an enormous privilege to be re-elected for the Linlithgow Constituency.
"We ran a positive campaign setting out what the SNP would do for the country and I what I would seek to achieve for my constituents.
"I worked extremely hard with my superb, enthusiastic and committed campaign team to earn the vote of the people of West Lothian, campaigning and meeting local people in every corner of the constituency. I am delighted to have received such a positive response to the SNP's message.
"I will now continue to work hard to deliver for the people and communities across West Lothian. We have such great people with great potential here and as we enter into the SNP's historic third term in Government, I want to take the views and priorities of my constituents to the heart of Holyrood and work with them to improve the lives of the people of West Lothian.
ENDS
Results:
BOYD MOOHAN, Angela (Scottish Labour) – 10,027
FARTHING-SYKES, Dan (Scottish Liberal Democrats) – 1,319
HYSLOP, Fiona (Scottish National Party) – 19,362
KENNEDY, Charles (Scottish Conservatives) – 7,699