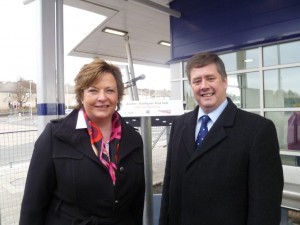 HYSLOP WELCOMES NEW BATHGATE – ARIDRIE LINE AT OFFICIAL OPENING
SNP MSP Fiona Hyslop has attended the official opening of the New Bathgate – Airdrie rail Link today which includes new stations at Armadale and Blackridge and a new refurbished station at Bathgate.
The new Bathgate – Airdrie Line is set to make a huge difference to people in West Lothian thanks to the work of Network Rail and the Scottish Government.
Fiona Hyslop commented,
"I am delighted to see this new rail link up and running, especially with the inclusion of Blackridge station – a project that was not in the initial plans from the previous Government until I and others campaigned for it to be added.
"We also have a new station in Bathgate which has 2 new platforms, 400 new car park spaces and a new footpath for the town's residents and Armadale and Blackridge are now firmly linked up to the rest of Scotland by rail with their own stations.
"I even gave evidence to Parliament on the original Bill which sought to re-build the line so I am very proud to say that I have been involved with the reconstruction of this line since the beginning.
"I am aware of the disruption that the work has caused particularly to the people of Armadale with the extended closure of Station Road, causing an inconvenience to members of the public.
"However, the new rail link will provide an excellent commuting service and will also open up job opportunities for the people of West Lothian and right across the central belt creating new business and investment for the entire region- a welcomed boost during current economic difficulties."
To check the timetable for the new link visit: www.scotrail.co.uk